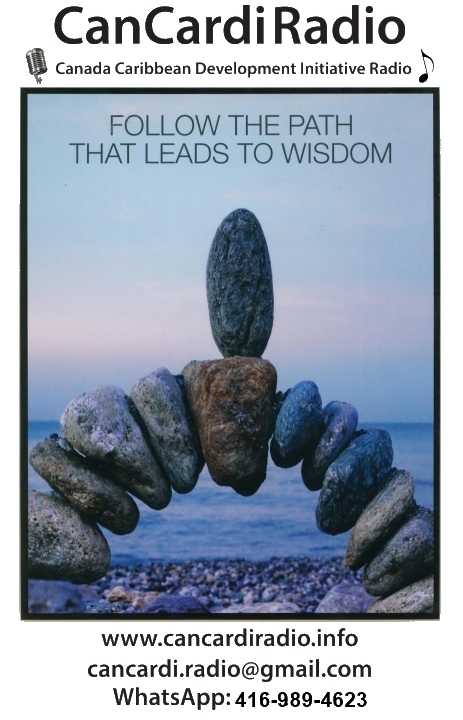 What's on CANCARDI Radio?
Fridays:
Re-broadcast of The Sunday Service from The Frederiksted Baptist Church (FBC)/St. CRIOX/USVI : 9am
Step-in the Light with BISH-I, via Bayhillnewsnetwork : 7pm - 9pm
In the Scheme of Things with Stevie Dred/RiddimWSM radio: 9:30pm - 12am
Saturdays:
Healthy Vibses with Vin Abbott, via NICE Radio: 9-15am - 9:30am
The Vin Abbott Show: 5pm -8pm
Sundays:
The Sunday Service from FBC/ST.Croix/USVI: 10am - 11:30am
In Your Corner/Canadian Content with Vin & Jim: 5 pm
Re-broadcast of The Sunday Service/The St. George's Anglican Cathedral/Kingstown/ SVG: 8pm
Mondays:
Inspirational Talk by Shona Attie, via Bayhillnewsnetwork: 7:30 pm
Inside Health with Vin Abbott, via Bayhillnewsnetwork: 8:00pm
Wednesdays:
Re-broadcast of Healthy Vibes: 9pm
Thursdays:
Re-broadcast of Inside Health on Bayhillnewsnetwork: 5:30p
Love Zone With The Scorpian, via FunCity Radio: 10pm - 12am
Other Weekday Programs:
Re-broadcasts of in-studio interviews; reports from Interenational Correspondents, Live Events (networking with Bayhillnewsnetwork, Funcity Radio, NICE Radio, Success Radio, Caribbean-International Organizations & Individuals)
MUCH MORE TO COME. thanks for your continued support!